MA200TS MIG | TIG | STICK | FCAW WELDING INVERTER
Build more with Multi-process !
> Brutal 200A for MIG and 180A for TIG and STICK-ultimate tool to meet all home welding needs.
> Build to run-off generator. Optimized for dirty power and fluctuating voltage, great for field welding.
> MIG weld 24-gauge mild steel up to 1/2 inch and Aluminum up to 3/8 inch. TIG weld 1/2 inch steel and stainless steel.
STICK weld 5/16 inch plate in a single pass and burn 3/16 inch rod.
> Full-metal structure. No fragile plastic components are used in the body – built to last.
> Precisely control the weld by presetting current, voltage, wire feed speed, arc force and induction.
> High reliability & durable is guaranteed with moisture-proof, salt spray-proof, corrosion-proof IP23 design.
Product Highlight
TIG performance you can count-on
Cutting edge IGBT inverter technology provides smooth, stable and quiet lift arc DC TIG from 10A up to 180A.
Excel in welding Aluminum
Optional Aluminum Kit provides a reliable, cost-effective and high performance solution for home Aluminum welding projects.
Protection with indicator light
Built-in temperature, voltage and current sensors provide maximum protection for operator and machine.
Details Preview
Infinite Electronic Induction,
Take MIG performance to next level!
Independent induction control is normally only found on larger industrial welders, together with other professional features like digital preset A/V meters and arc force control set MA200TS apart from its competitors.
With less inductance you have the crisper the arc will appear and the wires will start easier.
More inductance will make the arc appear "softer" with a flatter wider appearance and if too much is used, wires will stumble during starts.
Aluminum cast wire feeding system
> Durable gear box delivers added drive torque and quiet operation. Experience smooth wire feeding and less wire jamming.
> Precision full tension adjustment drive system reduces chance of wire tangling.
> Fast tool-less drive roll changeovers.
> Detachable professional MIG torch can be easily upgraded to a longer lead.
Advanced IGBT inverter technology provides outstanding welding performance
Built-in with wire end ball elimination (burn-back), hot-start and crater fill to optimize for fast and soft arc strike and perfect arc finish.
In STICK mode arc force kicks in when your rod is about to stick to workpiece. Increase the value will reduce the tendency of electrode sticking while welding.
Forgiving arc makes dialing in your application easy, excellent out-of-position arc stability, low spatter and a wide voltage sweet spot.
Specification
- All parameters are certified by Canadian Safety Association (CSA/US)
Input
Duty cycle
Maximum amperage output
Minimum amperage output
Circuit breaker requirement
Generator requirement
Open circuit voltage
Consumables
Spool size
Welding wire
Welding capacities



Dimension
Weight
208/230 volt, single phase
30% @ 180 amps, ambient temperature 104F (40°C)
MIG: 200 amps; TIG: 180 amps; STICK: 180 amps
MIG: 40 amps; TIG: 10 amps; STICK: 10 amps
50 amps 220V
5000W non-inverter type generator recommended
65 volts
Tweco / Lincoln style replacement parts
4 inch and 8 inch
023 and 035(default) inch solid and flux-cored wire steel/Aluminum
MIG: MIG: 24-gauge up to 1/2 inch mild steel, up to 3/8 inch Aluminum
TIG: 1/2 inch stainless steel and steel
STICK: burns 3/16 inch rod and welds 5/16 inch plate
15.7x 8.3 x 13.4 inch (400 x 210 x 340 mm)
26.5 lb (12 kg)
Package come complete with
Following items are not in the package need order separately:

07000510 Regulator/flow meter.
072611120 gas hose 6.5ft.
07003750 TIG welding kits.
10 ft (3.2M) 12 * 3 AWG Power Cord and NEMA 6-50P "Welder" Plug.
200A electrode holder with 10ft (3.2M) AWG #5 lead..
Industrial earth clamp 300A with 10ft (3.2M) AWG #5 lead.
200A MIG torch with euro end and 10ft (3.2M) lead.
Easy 4 steps for return and replacement
This product is covered by
one year free replacement warranty!
Contact customer service.
Receive prepaid return label through email.
Drop off to any UPS location.
Wait for the refund or replacement.
ALUMINUM WELDING INSTRUCTION
How to setup Aluminum MIG welding with KickingHorse MA200TS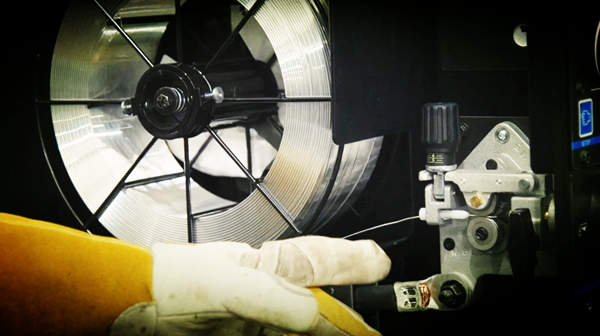 How to MIG weld Aluminum with regular MIG torch (no spool gun needed)
Will MA200TS weld aluminum?

KickingHorse® MA200TS multiprocess welder weld 14 gauge up to 3/8 inch Aluminum perfectly with optional Aluminum welding kit.

What size generator will run this unit? What's the recommend circuit amperage for the welder?

KickingHorse® MA200TS multiprocess welding inverter would require a generator that features a minimum rated wattage of 5,000 watts. We recommend 50A breaker for reaching the full capacity of the unit.

Is the TIG scratch, lift or HF? Can you hook up a pedal for tig?

KickingHorse® MA200TS mulitiprocess welder features LIFT start TIG and an not hook up with pedal .

What size drive rolls come with the machine?

KickingHorse® MA200TS come with 023/035 dual groove drive roller.

Can it run 6010 electrode?

KickingHorse® MA200TS will weld 6011 not 6010. E6010 rod need special circuit to weld properly.

What size are the dinse connectors and what gauge is the welding cables?

KickingHorse® MA200TS come with electrode holder and earth clamp with Dinse 50 and AWG5 lead.

Does it have US safety approval? What happens if I use non - certified welder in US?

KickingHorse® MA200TS is CSA/US certified multiprocess welding inverter and is safe and legal to weld both on-site and in house. In United States, before decide to purchase any welding machine without safety certification, you must consider not only the safety of the employees, your family members and properties, but also the legal, financial and insurance consequence may face by using non-safety approval equipment, no matter at work place or in home.
The Fines for Non-Compliance are Very Heavy in US!