A220 IGBT INVERTER STICK WELDING MACHINE
High Power, High Rating.
> 220 amp highest-in-class rated output, welds 3/8 plate with 3/16 rod in single pass.
> Optimized for dirty power and fluctuating voltage, engineered particularly suitable for generator.
> Full-metal structure. No fragile plastic components are used in the body – built to last.
> State of art inverter technology provides exceptional quality DC performance.
> Ideal for indoor outdoor repair, fabrication and construction where high reliability & durability is required.

Product Highlight
Protection with error indicator light
Built-in temperature, voltage and current sensors provide maximum protection for operator and machine.
Optimized for dirty or unreliable power
Delivers consistent performance from 160V up to 270V input voltage, even with generator.
Reliability is always guaranteed
> Moisture-proof design.
> Salt spray-proof design.
> Corrosion-proof design.
Details Preview
Small box, Big Power!
> Unmatched rated output 220A @ 25 % duty cycle, far outperforms its transformer-based counterparts in the market.
> The inverter-based system offers max 74V open circuit voltage (OCV), doubled the traditional transformer welder, and provides superiors arc strike performance on dirty surface and 3/16 in rods.
Industrial grade accessories
> Easy load 200A electrode holder stinger.
> Crocodile clip style spring loaded welding earth clamp.
> Equipped with AWG #3 heavy duty welding / ground cable which deliver powerful smoother arc and prevent overheating.
3 specialized built-in functions allow anyone to easily lay a beautiful bead
Automatic Hot Start allows operator strike the arc easily at rust or paint surface.
Built-in Anti-Stick circuit will automatically boost the current when the electrode is glued to the metal, make it easy to rip off the electrode and re-strike the arc.
Adaptive arc-force will optimize the character of the arc to deliver exactly what you want.
Specification
- All parameters are certified by Canadian Safety Association (CSA/US)
Input
Duty cycle
Maximum amperage output
Minimum amperage output
Circuit breaker requirement
Generator requirement
Open circuit voltage
Electrode size
Electrodes types
Weldable metals
Welding capacities
Dimension
Weight
208/230 volt, 60Hz single phase
25% @ 220 amps, ambient temperature 104F (40°C)
220 amps
10 amps
50 amps 220V
5000W non-inverter type generator recommended
74 volts
1/16 inch to 3/16 inch
E6013, E7014, E7018, E6011, E6010
mild steel, cast iron, stainless steel, hard surfacing
3/18 inch mild steel
9x4.7x6.7 inch
7.7 lb
Package come complete with
5ft(1.5m) 3 x AWG#12 power cord with NEMA 6-50P 220V "welder" plug
200A ground clamp with 5ft(1.5M) AWG#4 lead and Dinse 25 connection
200A electrode holder with 5ft(1.5M) AWG#4 lead and Dinse 25 connection
Easy 4 steps for return and replacement
This product is covered by
one year free replacement warranty!
Contact customer service.
Receive prepaid return label through email.
Drop off to any UPS location.
Wait for the refund or replacement.
FEATURED REVIEWS ON YOUTUBE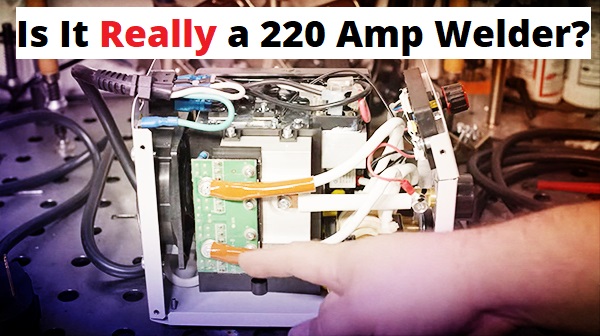 The Most Comprehensive Inside Out Review - 220A Max Out Run a 3/16" 7018 Rod
Welding a Gear - part 1
Welding a Gear - part 2
What size generator would I need to run this? If I want a 50ft extension cord for this welder, what is the recommended gauge (AWG)?

We recommend at least 5KW generator to run KickingHorse® A220 high power welding inverte at max capacity. However, you always can dial down the current to run off smaller breaker or generator.
This welding inverter is designed to work down to 160V AC and it will internally compensate all loss. Extension cord need to be rated to about 15A (about 3,5KW) what is AWG 14. Do not worry about loss in the cord. Just old transformer welders are sensitive to loss in cord. I have used 150ft cord connected to 240AC and I was impressed. I didn't use more than 120A but still Knob for current adjustment was pretty functional and accurate. I would say this is one of main feature to work equally in the range 160-250V roughly.

Is it an ac or dc welder? can i run it off my dryer or stove outlet? 2. what's the recommend circuit amperage for the welder?

KickingHorse® A220 is DC output arc welding inverter. It will run-off house hold dryer or stove outlet. We recommend 50A breaker for the full capacity of A220.

How thick a metal can be welded with this welder?

This welder is very powerful I went through 3/8 thick steel like butter.

Can i tig weld with this unit dc of course ?

We do not recommend TIG welding with KickingHorse® A220 High Power arc welding inverter.

What does duty cycle mean on arc welder?

Duty cycle is a welding equipment specification which defines the number of minutes, within a 10 minute period, during which a given welder can safely produce a particular welding current. You may noticed that many manufactures never rate the duty cycle with current in specification. Do not be fooled because with the same duty cycle, an arc welder rated at 200A is much more powerful than the one rated at 90A.

Does it have US safety approval? What happens if I use non - certified welder in US?

KickingHorse® A220 is CSA/US certified arc welding inverter and is safe and legal to weld both on-site and in house. In United States, before decide to purchase any welding machine without safety certification, you must consider not only the safety of the employees, your family members and properties, but also the legal, financial and insurance consequence may face by using non-safety approval equipment, no matter at work place or in home.
The Fines for Non-Compliance are Very Heavy in US!

What plug this welder comes with? Do I need to purchase a extra plug?

KickingHorse® A220 is ready to use with UL certified North American 12 AWG Power Cord and NEMA 6-50P "Welder" Plug.

What kind of rods can it weld or handle?

6011 6013 7018  all run fine, even 6010! have also used 3/16 7014 with excellent results.