A100 IGBT INVERTER STICK WELDING MACHINE
Build for Arc Welding at Home.
> Increased power in ultra-portable package.
> Full-metal structure. No fragile plastic components are used in the body – built to last.
> Very easy to setup and use with zero learning curve.
> On-the-Spot infinite amperage control and automatic parameter optimization.
> Save energy cost with more than 80% efficiency.
> Safety features to protect your family and household.
Product Highlight
Protection with error indicator light
Built-in temperature, voltage and current sensors provide maximum protection for operator and machine.
Optimized for dirty or unreliable power
Delivers consistent performance from 80V up to 150V input voltage, even with generator.
Reliability is always guaranteed
> Moisture-proof design.
> Salt spray-proof design.
> Corrosion-proof design.
Details Preview
One-Knob does it all!
Infinite Possibility!
> The advanced intelligent control technology will dynamically optimize the welding process so that with just one single knob, you can weld like a Pro!
> On-the-Spot infinite amperage control delivers exact result you need.
Industrial grade accessories
> Easy load 200A electrode holder stinger.
> Crocodile clip style spring loaded welding earth clamp.
> Equipped with AWG #6 heavy duty welding / ground cable which deliver powerful smoother arc and prevent overheating.
3 specialized built-in functions allow anyone to easily lay a beautiful bead
Automatic Hot Start allows operator strike the arc easily at rust or paint surface.
Built-in Anti-Stick circuit will automatically boost the current when the electrode is glued to the metal, make it easy to rip off the electrode and re-strike the arc.
Adaptive arc-force will optimize the character of the arc to deliver exactly what you want.
Specification
- All parameters are certified by Canadian Safety Association (CSA/US)
Input
Duty cycle
Maximum amperage output
Minimum amperage output
Circuit breaker requirement
Generator requirement
Open circuit voltage
Electrode size
Electrodes types
Weldable metals
Welding capacities
Dimension
Weight
120 volt, single phase, 60Hz
30% @ 100 amps, ambient temperature 104F (40°C)
100 amps
10 amps
20 amps 120V
3000W non-inverter type generator recommended
85 volts
1/16 inch to 1/8 inch
E6013, E7014, E7018, E6010, E6011
Mild Steel, cast iron, stainless steel, hard surfacing
7 gauge (3/16 inch)
9x4.7x6.7 inch
7.7 lb
Package come complete with
5ft(1.5m) 3 x AWG#13 power cord with 120V household plug
150A ground clamp with 5ft(1.5M) AWG#6 lead and Dinse 25 connection
150A electrode holder with 5ft(1.5M) AWG#6 lead and Dinse 25 connection
Easy 4 steps for return and replacement
This product is covered by
one year free replacement warranty!
Contact customer service.
Receive prepaid return label through email.
Drop off to any UPS location.
Wait for the refund or replacement.
FEATURED REVIEWS ON YOUTUBE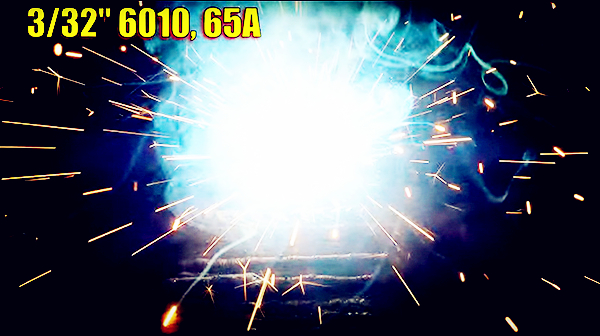 The Inside Out Review - Weld 3/32" 6010 Rod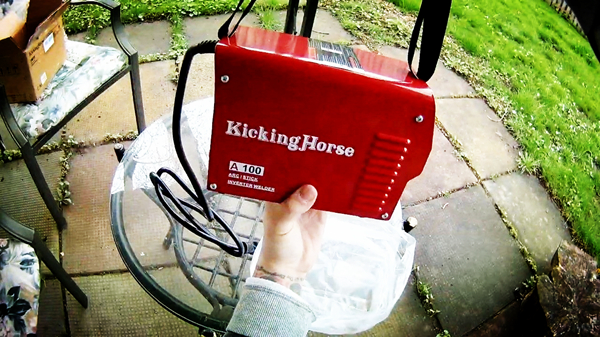 7018 3/32 Rod Test Drive
Hard Core Field Review - KickingHorse® A100, A220 and F130
What size of breaker is needed? What generator and extension cord size I should choose to run A100?

We recommend 20A dedicated circuit breaker and minimum 3KW diesel or gas generator with 110V output for getting the most out of KickingHorse® A100 home welding inverter. When the distance between the welder and power supply is less than 50FT, we recommend 10 AWG copper cord or 8 AWG aluminum cord.

Other 110V welders claim 200A output, why A100 only has 100A?

To provide 200A @110V input, welder need to draw at least 40A from the circuit. US household normally build for 15A, max 20A, running a 200A welder at home violates the US Safety Standard, not only trip the breaker, even worse will over heat the wire and cause fire hazard.

Can it be converted to tig?

KickingHorse® A100 Home arc welding inverter can not be used for TIG welding.

Can it operate on both straight and reverse polarity (dcen and dcep)?

Yes, The ground and electrode holder are detachable in KickingHorse A100, so you can just switch to obtain DCEN or DCEP.

What is 30% duty cycle @ 100A mean?

KickingHorse A100 home arc welding inverter allows welder to run 3 minutes at 100A out of each 10-minute period without overheating- at ambient temperature of 104F (40℃), not 70F (21℃)! Most of welding machine manufactures, include major North American producers, determine their consumer grade welding machine's duty cycle at 70F (21℃). It is important that you, as a purchaser , ask manufacture exactly how the duty cycle is calculated!

Is this an AC or DC welding machine?

KickingHorse ® A100 is DC output IGBT arc welding inverter.

Does it have US safety approval? What happens if I use non - certified welder in US?

KickingHorse® A100 is CSA/US certified arc welding inverter and is safe and legal to weld both on-site and in house. In United States, before decide to purchase any welding machine without safety certification, you must consider not only the safety of the employees, your family members and properties, but also the legal, financial and insurance consequence may face by using non-safety approval equipment, no matter at work place or in home.
The Fines for Non-Compliance are Very Heavy in US!