F130 GASLESS FLUX CORED WIRE FEED WELDER
IGBT Inverter Technology - Compact by design
> Ready to burn 0.035 wire, superior to other 0.030 wire welders in the market.
> Welds 18-gauge mild steel up to 1/4 inch in single pass with maximum 130A output.
> Fine-tune arc with step-less heat control, outperforms fixed setting in transformer welders.
> Very easy to setup and use with zero learning curve benefit from its Side-Load spool and highly integrated design.
> Cutting-edge inverter technology saves 25% energy bill with more than 80% efficiency.
> Full-metal structure. No fragile plastic components are used in the body – built to last.
Product Highlight
Protection with indicator light
Built-in temperature, voltage and current sensors provide maximum protection for operator and machine.
Highest open circuit voltage in the class
Delivers outstanding arc strike performance on dirty surface with un-matched 46 volt OCV, nearly two times higher than transformer welders.
Reliability is always guaranteed
> Moisture-proof design.
> Salt spray-proof design.
> Corrosion-proof design.
Details Preview
Infinite Voltage, Infinite Wire Feed,
Infinite Possibility!
Unlike to its transformer-based counterparts, F130 features an continuous voltage control that allows you to fine tune the voltage independently of the wire feed speed. Use the control to gain more freedom in making the weld puddle perform the way you want it to. Dial out spatter or control the weld puddle while welding overhead. Infinite voltage control puts total control of the welding arc in your own hands, allowing you to get the results you want.
Rugged Wire Feeding System
> Side load spool design normally used in professional MIG welding machine.
> Precision full-adjustment drive system reduces chance of wire tangling.
> Durable gear box delivers added drive torque and quiet operation.
Advanced inverter technology provides outstanding welding performance
Delivers the same brute power as its transformer-based counterparts, but at lower electricity costs.
Unprecedented 46V open circuit voltage make it is extremely easy to start arc at exceptional smooth arc ignition at rust surface.
Forgiving arc makes dialing in your application easy, excellent out-of-position arc stability, low spatter and a wide voltage sweet spot.
Specification
- All parameters are certified by Canadian Safety Association (CSA/US)
Input
Duty cycle
Maximum amperage output
Minimum amperage output
Circuit breaker requirement
Generator requirement
Open circuit voltage
Consumables
Spool size
Welding wire
Welding capacities
Applications
Dimension
Weight
120 volt, single phase, 60Hz
15% @ 90 amps, ambient temperature 170F (40°C)
130 amps
50 amps
20 amps 120V
3000W non-inverter type generator recommended
46 volts
Tweco style 11-35(default) or 11-30 tip, Lincoln style nozzle for flux cored wire
4 inches
035(default) and 030 inch steel flux cored wire
24-gauge mild steel, up to 1/4 inch
Ideal for beginners, home maintenance/renovation and auto repair
13.8 x 7 x 7.5 inch
10.8 lb
Package come complete with
5ft(1.5m) 3 x AWG#16 power cord with 120V household plug
Crocodile clip 150A ground clamp with 5ft(1.5m) AWG#8 lead
Flux core torch assembly with 6ft(2m) lead
F130 power source
Easy 4 steps for return and replacement
This product is covered by
one year free replacement warranty!
Contact customer service.
Receive prepaid return label through email.
Drop off to any UPS location.
Wait for the refund or replacement.
FEATURED REVIEWS ON YOUTUBE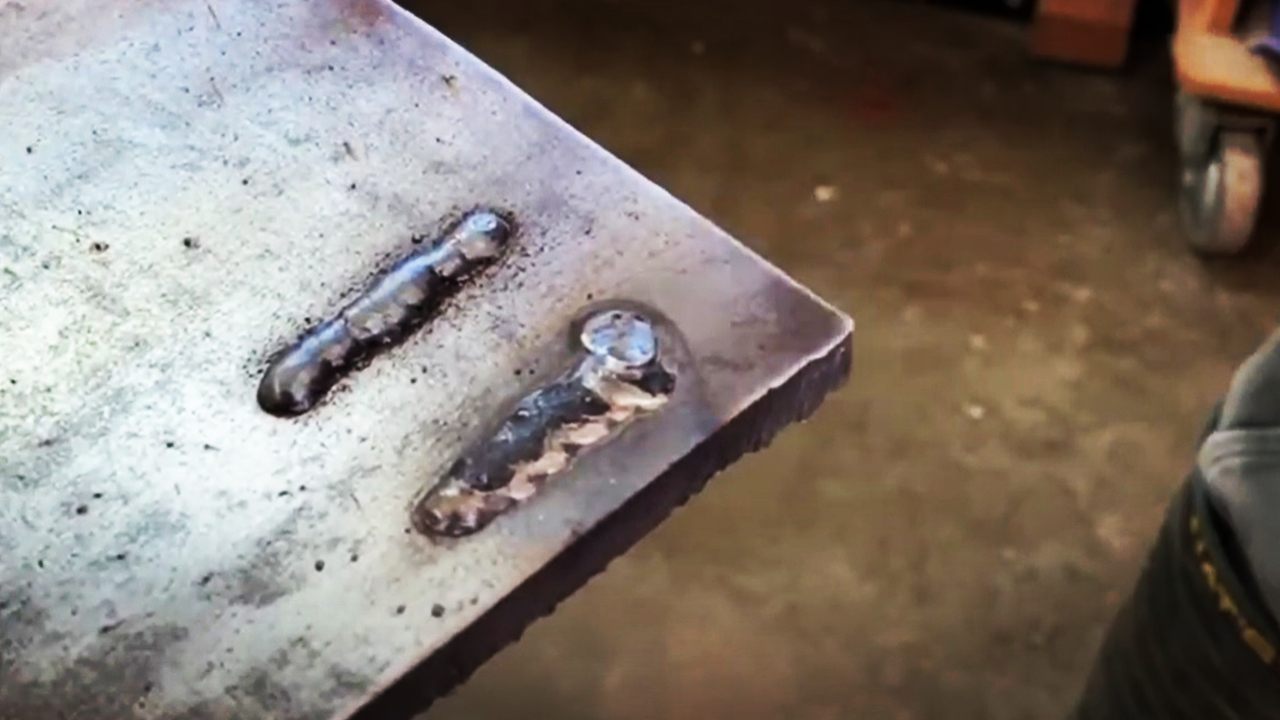 Compare with Lincoln Power MIG 210MP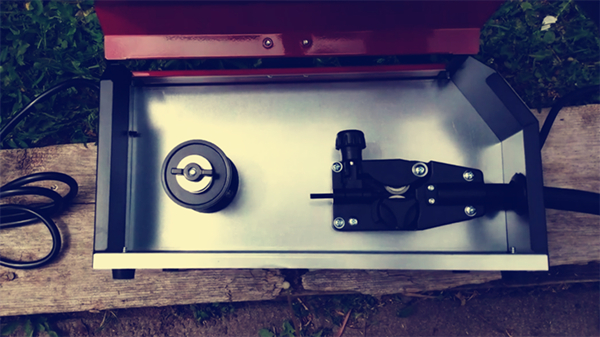 Open box review
Hard Core Field Review - KickingHorse® F130, A220 and A100
Why F130 burns 035 (0.9mm) flux cored wire, but other similar welders in the market capable of 030 (0.8mm) wire only?

The secret is the 40K Hz highest efficiency in-class IGBT inverter module built in the unit. The High performance inverter generates more current with the same limited power available at US residential household.

Can I use 0.30 or 0.23 wire for some auto work?

KickingHorse® F130 home flux core welder can use 030 wire, you need:
(1) Flip the drive roller to 030 groove.
(2) Install Lincoln (tweco) 11-30 tips which is available in Home Deport and other tool store as well as Amazon.
This unit can not use 023 flux core wire. Actually 023 is very rare for flux core because of the difficulty of manufacturing.

What size generator will run this unit? What type of extension cord can I use with this welder?

F130 flux core welder would require a generator that features a minimum rated wattage of 3,000 watts. This unit is intended to be used with a 20 amp 115 volt AC circuit without the use of an extension cord. If one is used it must be rated for 20 amps for the entire length of the cord and cannot be any longer than 25 feet.

Does it have US safety approval? What happens if I use non - certified welder in US?

KickingHorse® F130 home flux core welder is CSA/US certified mig welding inverter and is safe and legal to weld both on-site and in house. In United States, before decide to purchase any welding machine without safety certification, you must consider not only the safety of the employees, your family members and properties, but also the legal, financial and insurance consequence may face by using non-safety approval equipment, no matter at work place or in home.
The Fines for Non-Compliance are Very Heavy in US!

Is galvanized steel okay to weld? Need this to assist in building a tiny home/repairing the trailer will it be sufficient?

It's not a good idea to weld galv steel. You should weld the steel first then have it galvanised. Or if you have no choice and it is already galvanised then grind the galvanising off in the area you wild weld and paint with cold galv after welding.

Can this weld thin metal? 1/8 inch?

Yes, it can weld pretty thick steel, as I work at a steel shop and hamdle steel all day I was surprised how thick, with proper prep and skill you could weld half inch, when welding 1/8- 1/4 or more you need to crank the voltage up high but it's a nice little welder, super light too.

Can I use stainless steel flux wire to weld with this machine?

You can weld any flux core wire with KickingHorse® F130 home welder as far as the wire does not need gas and does not use DCEP polarity. Consult to the wire manufacture specification first.